I want to share this project with you. I will be posting a time-lapse of this trees developments shortly. For now I would like to give you my thoughts and discuss the process that I went through during this tree's styling.
Here is an photo of the tree before I styled it. This tree has been trimmed back and looked after for as least two years now. I Decided to work on this tree today.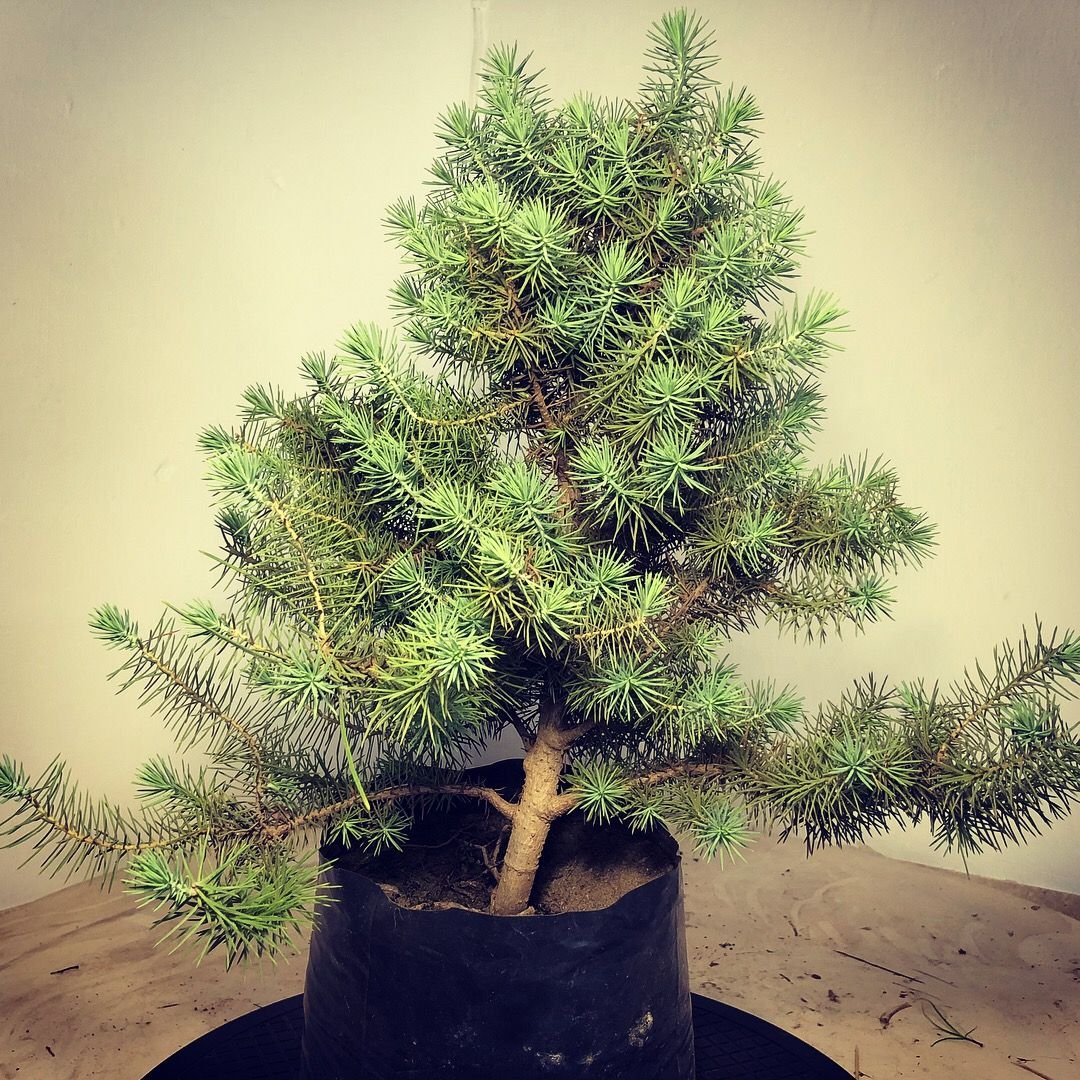 As you can see the tree has a lot of potential. My first though was to keep the trunk as it was and place the branches to make the tree look better. I started off by trimming back the new growth and removing the dead needles from the tree. As I was doing this. I saw that the tree had a very nice branch structure and I only needed to remove a few branches and then I would have this very nice looking ordinary tree. I started my usual process of selecting branches. One to the left, one to the right and a back branch for depth.
I then started wiring my tree. I started off with the trees trunk. Did all the primary branches and then I did the apex. Two hours has gone by. I now started placing the branches from the the base of the trunk. I was almost done with the trees design then it hit me. I can make this tree more interesting if I changed a few things and removed a few more branches.
I know changing the direction of a design half way is not always an good thing to do. I agree with that but If I have not changed the design I would have always thought what if. After changing the design I felt happier with my work it had more movement and the tree look more pleasing to the eye this way. If I had stuck to my original plan the tree would have been just another upright pine. As artist we must always push harder and try more challenging ways of doing things. Being good is easy. Giving one hundred percent in everything you do all the time is hard but that is what makes you great.
Here is the tree after I was done with it.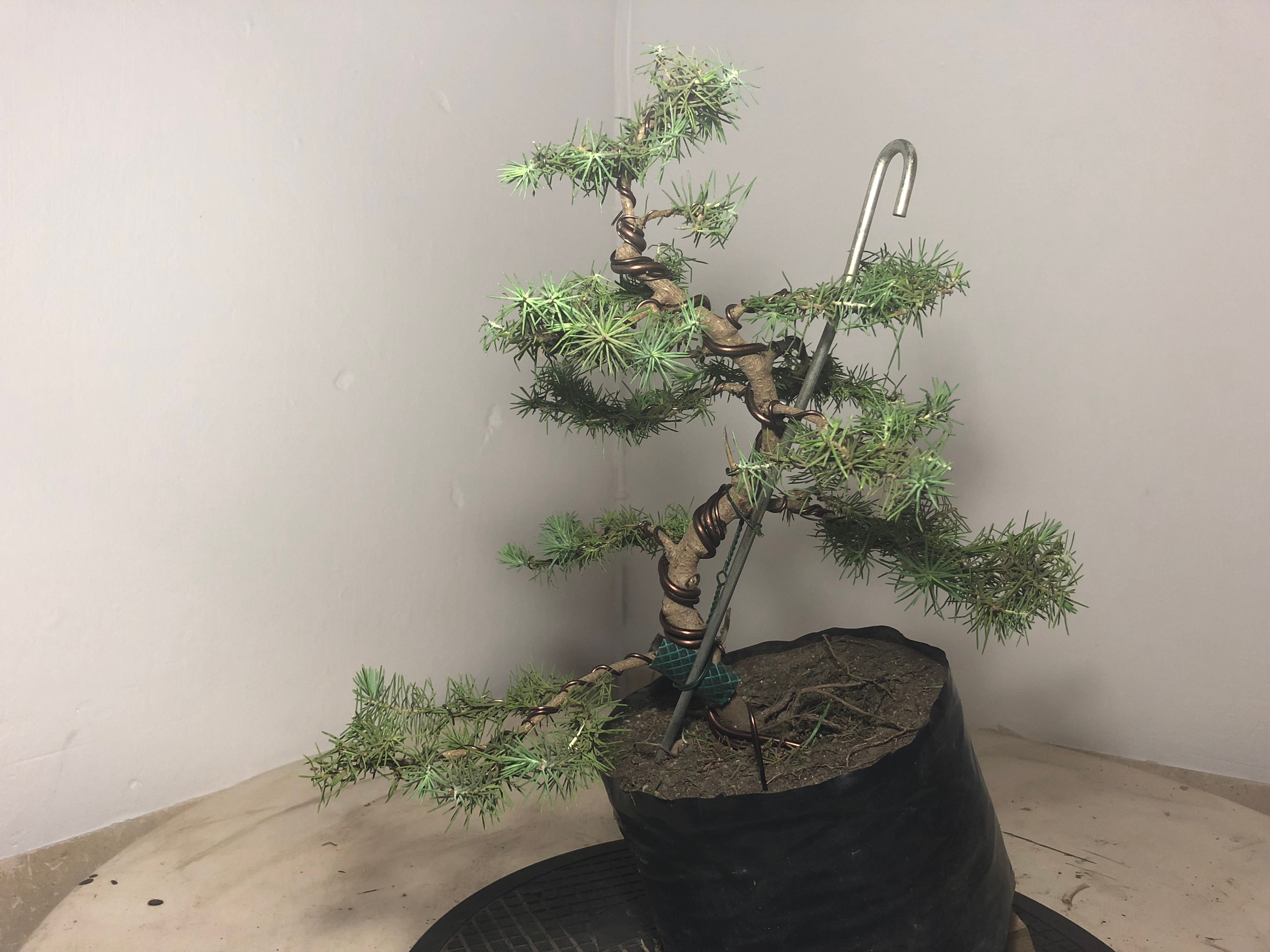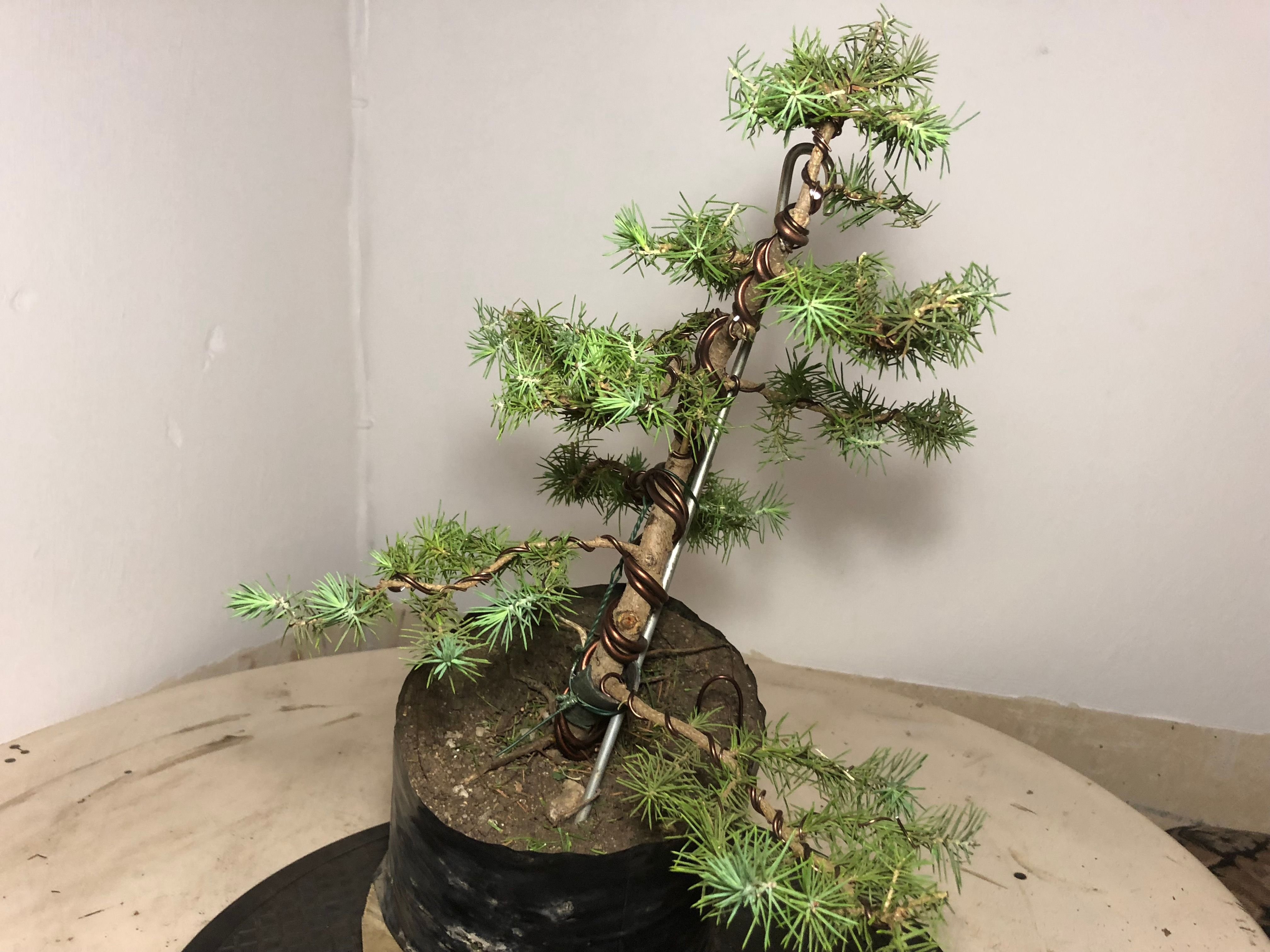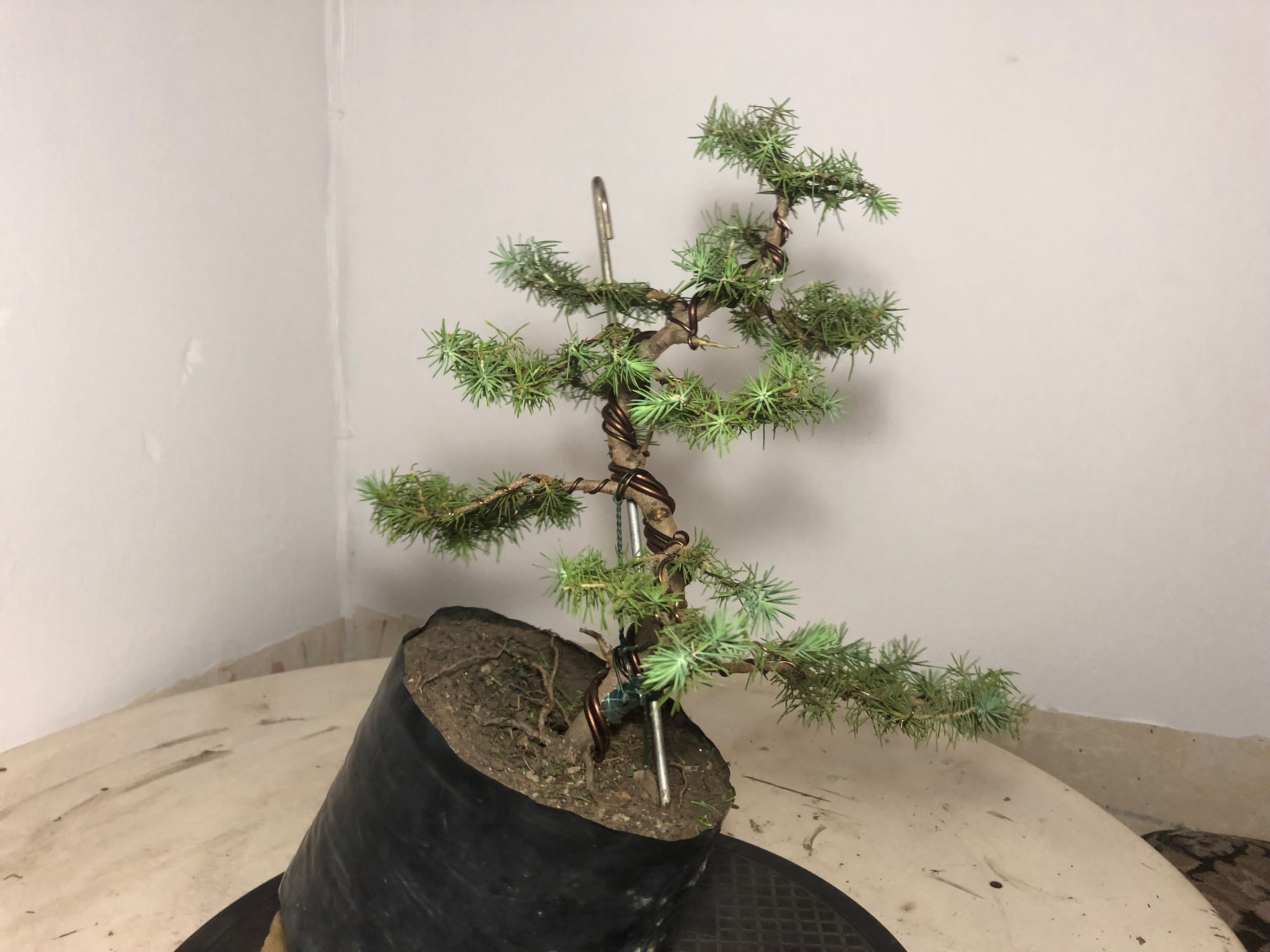 I just love these top view shots. I style the tree by looking at it from the front at eye level every now and then I get up to take a look from a distance. When I'm pleased with what I have designed and the tree is all done the fun starts. I take photos. I turn the tree from left to right move the stand up and down. I then remove the camera/phone from the stand and boom. There it is that beautiful shot from the top. It always cheers me up. Just seeing how all the branches fan out from the trunk. It's something that I can not describe. Its just so weird you know where to place the branches and it's all done intentionally but still seeing it is something else, I'm amazed at the fact that every single branch is in place. Maybe I'm just being silly…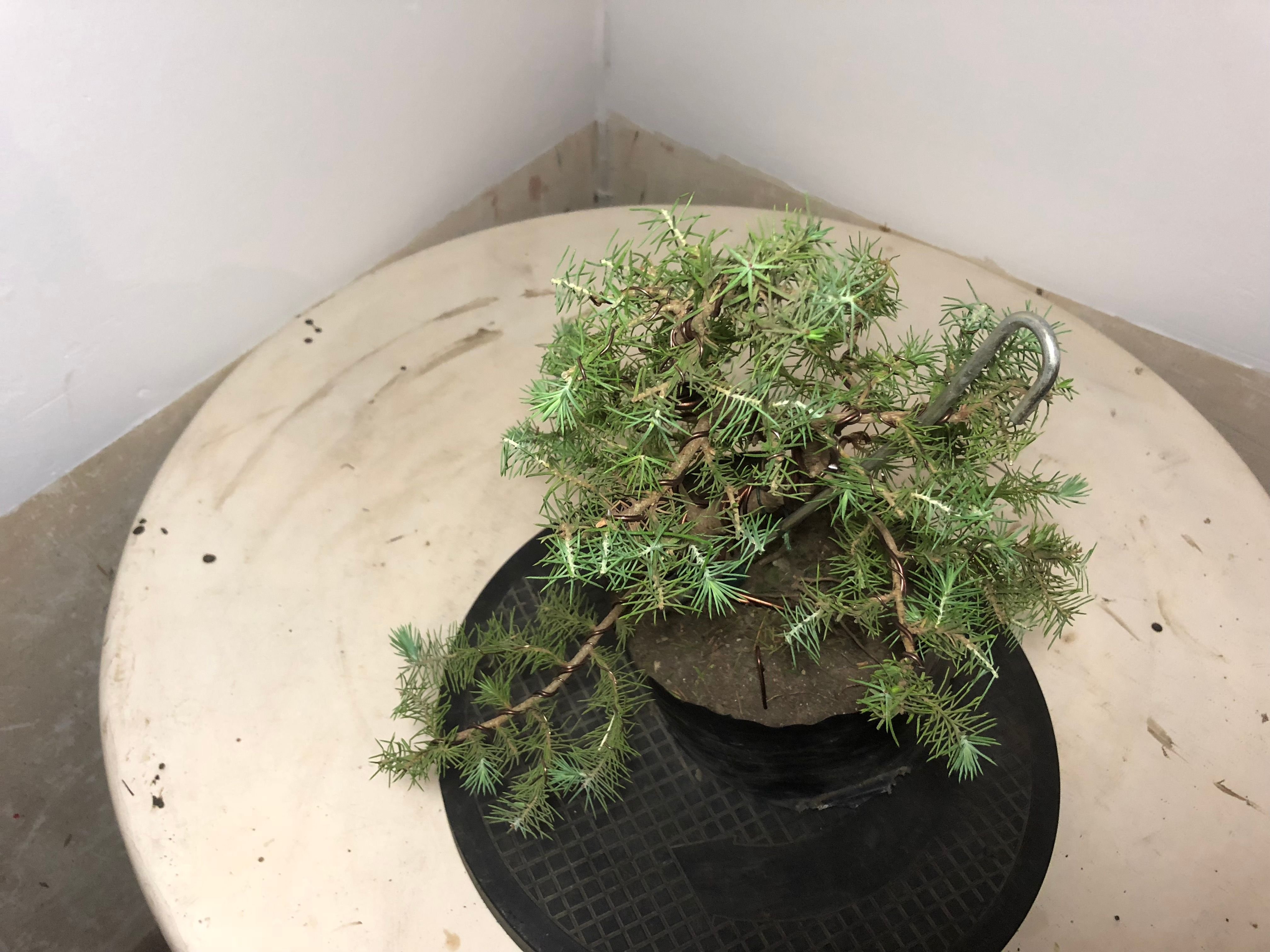 Here is a short clip with a 360 degree view of the tree.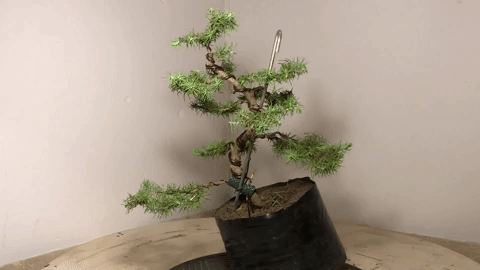 Here is a before and after photo.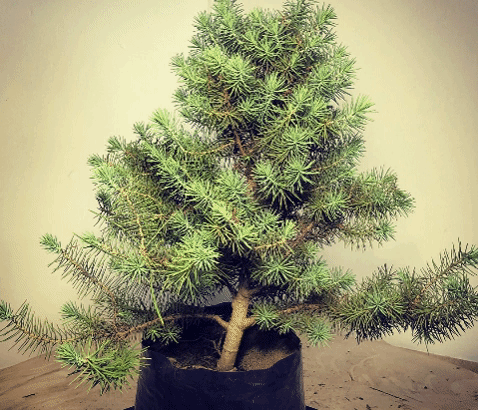 Styling this tree was a great experience. I learned that I am more open to changing the course now then I was a few years ago. I am one of those people that stick to rules in general. Like adhering to the speed limit and not challenging the system. If it comes to styling trees it's the complete opposite. I do not follow any rules and change designs. It's scary doing bonsai changed me… Big smiles!
Thank you for taking the time to read my blog. Please feel free to leave you comments below as well as any questions you might have.
I always try and take as much photos as possible but at the end of the project there is always that one or two photos I missed that would have been nice to add to the story.