As we reach the end of day 04th of the #lockdown2020 I am still working on at least one bonsai tree per day. I worked on two trees today and one over the weekend. I try and take a break from my trees and the internet during weekends. Today I had to force myself to make time to work on my trees again. Once the ball starts rolling it is easy to keep the momentum going. It's when you stop that it becomes more and more difficult to get in motion again. It felt like a uphill battle to get started today. I just wanted to finish one tree and call it a day but I pushed myself to do more. It does not take a lot to work on the trees, it's just that there are so many other things that need to be done that seems more important. But lucky for me I'm one of those people that like setting BHAG's (Big Hairy Audacious Goal's). I only do this to motivate myself to work harder as I thrive under pressure.
Enough about that here is a few photos of the three trees I worked on.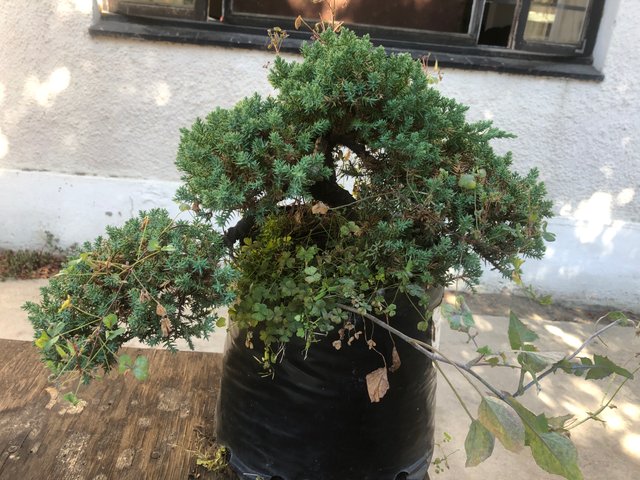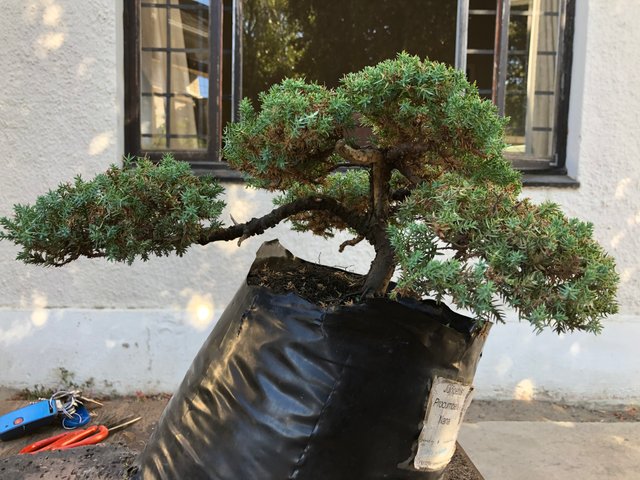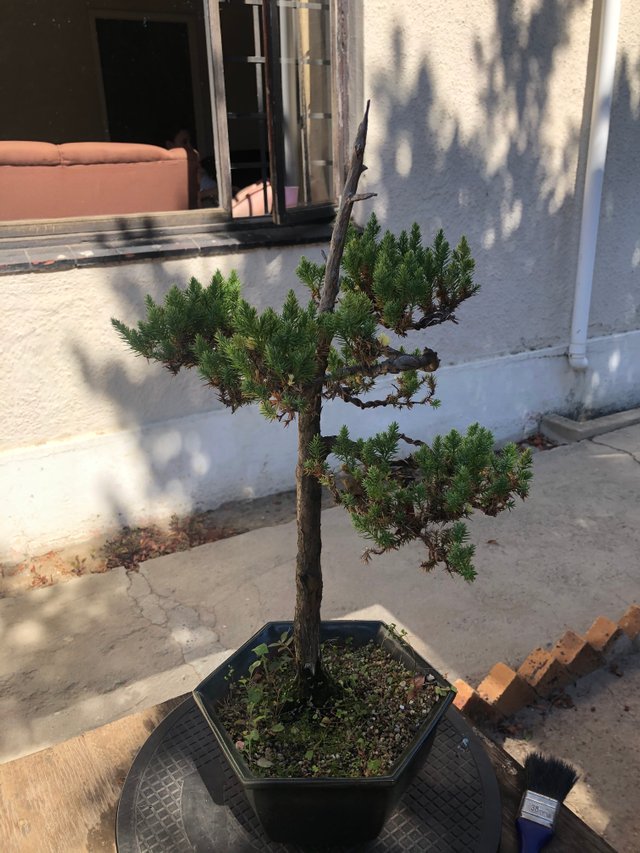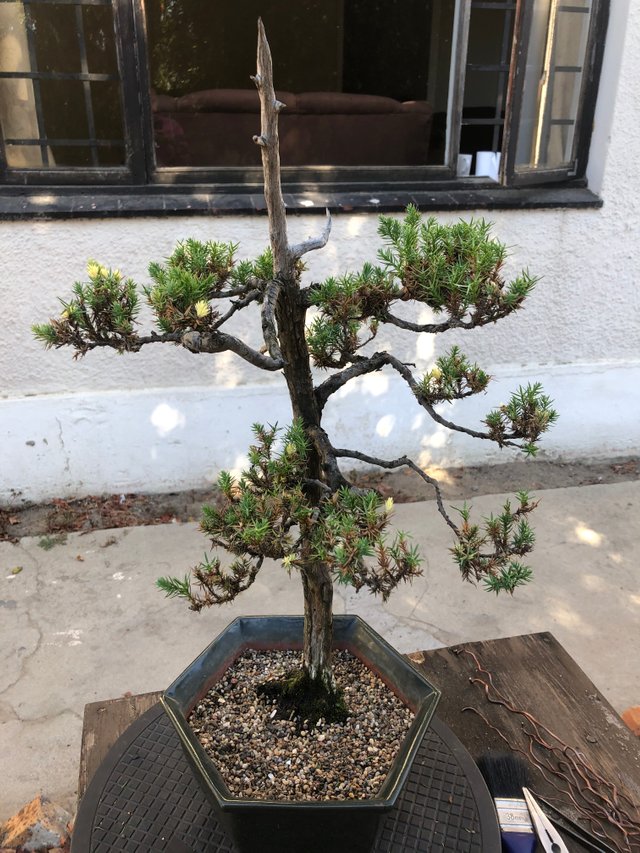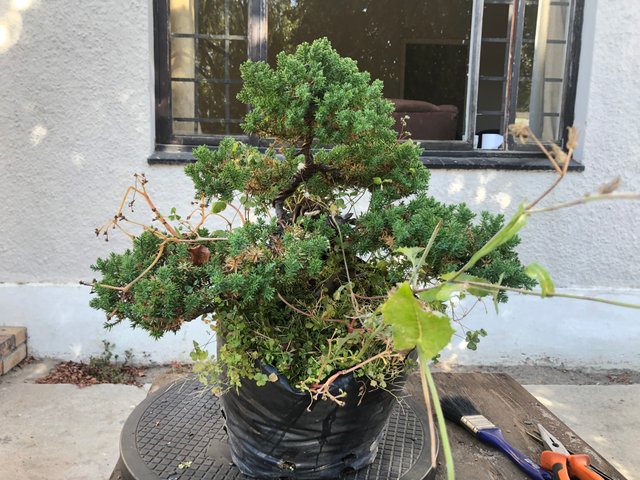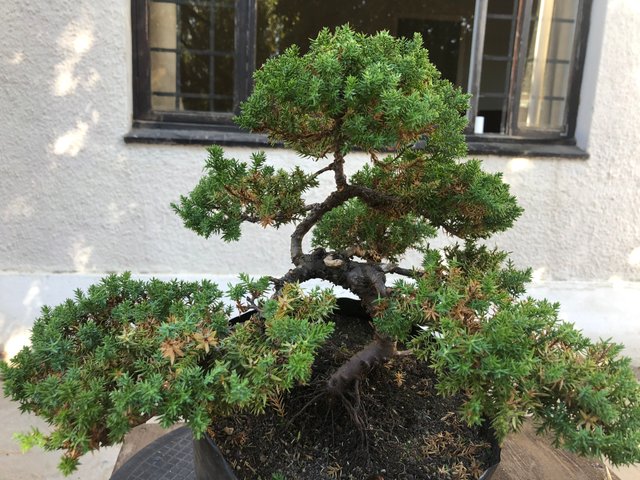 As you can see I was busy. Strangely if I look back at the last few posts the trees that I worked on were mostly Juniper bonsai trees. A big portion of them are Juniper Procumbens Nana trees. This is one of the most common juniper in South Africa. There are plenty of other Juniper species available but I like the Procumbens Nana as they have very nice small leaves and they work good as shohin size bonsai. I have also seen that the other species takes longer to get nice compact foliage pads.
The first and last pair of photos are Junipers that I have styled from nursery stock two years ago.
The third and final #juniper styled.
You can see that this one in the link above has came a long way since the initial styling and this is why I like Juniper Procumbens Nana trees. They easy to work with and they grow fast relative to other Junipers.
Earlier today I also tried something new. I filmed myself preparing to spray my trees with Oleum.
After I apply Oleum to the trees they always look so much greener and healthier. Oleum is an oil-based insecticide that I prefer to use. It is a very safe way to try and get rid of insect infestations before you look at any harsher solutions. It's also safe to use on a wide variety of insects and can be used on most trees. The only word of caution will be not to over do it. Only use when needed and spray you trees leaves with water the day after you applied Oleum as it may cause a oil build up that can burn the leaves in warmer weather. Make sure you apply the treatment to your trees early morning or late afternoon. Depending on the season. Please note that you should make sure that your soil mixture is dry after applying the treatment before the sun sets and temperatures drop. You do not want your trees to stand in a wet soil mixture during a cold night. This might lead to root rot.Thank you for taking the time to read my blog hope you enjoyed it. Please feel free to leave your comments and questions in the section provided below.
Before I leave you guys I thought it would be great to share this amazing opportunity with you guys that I came across a few days ago.
Are you the type of person that likes your privacy and don not want anybody seeing what you are busy with online and tracking you every move. I have just the solution for you. Download the Brave web browser:
https://brave.com/bon731
Not only does it protect your private data but you can get paid for using this internet browser just by watch the adds that you want.